Who owns the most Apple stock? Warren Buffet's BRK among top holders – Capital.com


https://ift.tt/up4LXbe
Scan to Download ios&Android APP
Who owns the most Apple stock?
Apple's biggest institutional investors
Biggest individual shareholders of Apple
Tim Cook
The bottom line
FAQs
By Fitri Wulandari
Edited by Jekaterina Drozdovica
12:13, 7 July 2022
Like its tech peers, Apple (APPL) hasn't been immune from the market slump in 2022. But, despite losing over 20% year-to-date (6 June), Apple remains the world's largest company by market capitalisation and keeps attracting institutional interest.
And that's hardly surprising, as in the last two decades Apple became a legendary firm beloved by famous investors such as Warren Buffett. The Cupertino-based iPhone maker went public on 12 December 1980 at $22 a share. Adjusted for three stock splits, Apple share price has grown 12,881%.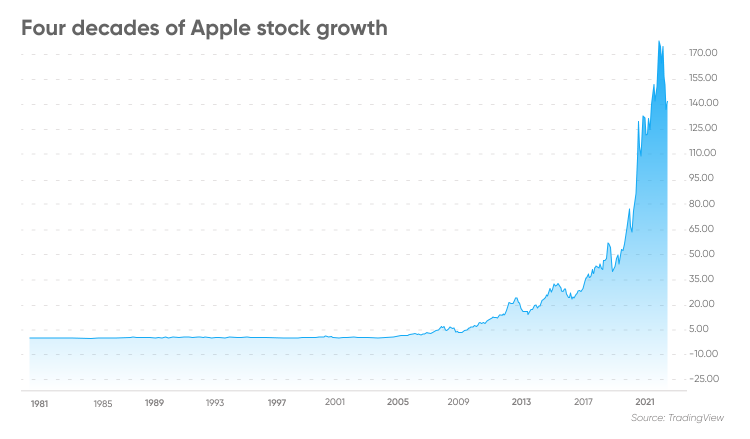 Who owns the most Apple stock? Here we take a look at the biggest Apple shareholders and their rationale behind owning the stock. 
Firstly, how many shareholders does Apple have? According to the data from Nasdaq, Apple has 16.18bn of outstanding shares spread among different types of investors.  
As of 6 July, institutional investors own 57.48% of the stock, or 9.30bn shares, retail investors hold 42.4%, or 6.84bn shares and Apple executives hold 0.12%, based on data by WallStreetZen.
Compared to other consumer electronics producers, Apple is far from the most beloved. For instance, smart home technology provider Universal Electronics (UEIC) and audio products maker Sonos have 84.52% and 79.27% of its stock owned by institutional investors, respectively. 
The institutional investors that own Apple shares include pension funds, hedge funds, mutual funds, money managers and insurance companies. They dominate the stock ownership and can have a big impact on the value of Apple shares. 
David Jones, chief market strategist at Capital.com, said that large fund managers hold and buy Apple stock because it is the largest stock by market capitalisation in the S&P 500 (US500) Index.
Vanguard Group, Blackrock, and Warren Buffet's Berkshire Hathaway are three top shareholders of Apple among institutional investors. However, according to Jones, institutional ownership of a stock may not be so important for retail investors. 
Pennsylvania-based investment advisor Vanguard Group owns the biggest proportion of Apple stock among other institutional investors with 7.85% ownership worth $176.44bn, according to WallStreetZen data. 
Established in 1975, the company is the world's second largest asset manager, according to Advratings' list of World's Top Asset Management Firms. Vanguard offers a broad range of investments, advice, retirement services, and insights to individual investors, institutions, and financial professionals. 
The firm is famous for pioneering work in creating index-tracking mutual and exchange-traded funds (ETF) easily accessible by retail investors. Such financial instruments would track the performance of a benchmark index such as S&P 500 (US500) or Nasdaq 100 (US Tech 100).
Vanguard has a unique ownership structure. Instead of being owned by external shareholders, the company belongs to the people who invest in its funds.
As of 31 May, Vanguard had more than 30m investors and 410 of funds offered. By the end of 2021, the company's asset under management (AUM) reached $8 trillion.
Several Vanguard's investment products include Vanguard S&P 500 ETF (VOO), 
GME
AAPL
GOOG
TSLA
Vanguard Information Technology Index Fund ETF (VGT), and Vanguard Total Stock Market Index Fund ETF Shares (VTI)
Blackrock (BLK), the world's biggest asset manager, is the second largest institutional investor of Apple, owning 6.35% of the stock worth $142.77bn.
Bullish Bearish
93% 7%
You voted bullish.
You voted bearish.
Give AAPL a try
The New York-based firm has a mix of institutional and retail clients worldwide. Its product offerings include single- and multi-asset portfolios investing in equities, fixed income, alternatives, and money market instruments.
In the first quarter of 2022, the firm had $9.66tn of AUM, up from $8.78tn in the same period in 2021. The company went public at the New York Stock Exchange (NYSE) on 1 October at $14 a share.
Founded by legendary investor Warren Buffet, diversified holding company Berkshire Hathaway (BRK) has businesses ranging from insurance to freight rail transportation and energy. 
Buffett, known as the 'Sage of Omaha' is one of the most successful investors in history. His most recent letter to shareholders revealed that the firm's compounded annual gain was 20.1% between 1965 and 2021 – almost twice higher than 10.5% achieved by S&P 500.
Berkshire Hathaway is the third largest institutional investor of Apple, owning 5.5% of the whole stock worth $123.78bn. As of the first quarter of 2022, Apple was Berkshire's largest holding, valued at $159.1bn, or over 41% of its $390.53bn stock portfolio.
According to Security Exchange Commission (SEC) filings data, the Apple's insider investors who own the most shares of Apple are the iPhone maker's board chairman Arthur Levinson, the firm's CEO Tim Cook and its chief operating officer (COO) Jeffrey Williams. 
Arthur Levinson  is currently Apple board's chairman and CEO of Calico, a biotech company that he founded with Alphabet's Google (GOOGL) in 2013. From 2004 to 2009, he served as Google's director.  As of February 2022, Levenson held over 4.5m Apple shares. 
Before taking the helm as Apple's CEO in 2011, Cook was Apple's COO. He was in charge of managing Apple's supply chain, its sales activities, service and support in all markets and countries. He was also in charge of the company's global sales and operations.
As of August 2021, Cook owned almost 3.3m Apple shares. 
Jeff Williams is Apple's current COO, looking after Apple's worldwide operations and leading hardware engineering for the Apple Watch. He joined the tech company in 1998 as head of Worldwide Procurement. As of April 2022, Wiliams held 489,662 Apple shares.
Knowing who owns the most of Apple's stock can help in understanding the company's objectives. Big investors typically have substantial influence over future potential of the company.
However, it should not be the key reason for your decision to buy a stock. Whether Apple is a good investment should depend on your investment goals, risk tolerance, and the size of your portfolio. It is important to do your own research before making any investment or trading decision. And never invest or trade money that you cannot afford to lose. 
According to data from Nasdaq, Apple has 16.18bn of outstanding shares, as of 6 July.
Institutional, retail and insider investors own Apple's shares. As of 6 July, institutional investors such as asset management firms Vanguard, Blackrock and Berkshire Hathaway hold more than 57% of Apple's shares. Retail investors own around 42%, while insider investors own the remaining 0.12%. Among the biggest individual investors are Apple executives Arthur Levinson, Tim Cook and Jeffrey Williams.
The Bill & Melinda Gates Foundation Trust, a charity organisation run by the former couple, owned one million Apple shares at the end of 2020, but sold them in 2021.
As of August 2021, Tim Cook owned almost 3.3 million Apple shares, which amounts to 0.02% of all company shares.
New to trading? Learn to trade with Capital.com
Most traded
Why Capital.com?
Simple and intuitive platform
No commission
Competitive spreads
Join the 427.000+ traders worldwide that chose to trade with Capital.com
1. Create & verify your account
2. Make your first deposit
3. You're all set. Start trading
CFDs are complex instruments and come with a high risk of losing money rapidly due to leverage. 81.40% of retail investor accounts lose money when trading CFDs with this provider. You should consider whether you understand how CFDs work and whether you can afford to take the high risk of losing your money. Risk Disclosure Statement
The value of shares and ETFs bought through a share dealing account can fall as well as rise, which could mean getting back less than you originally put in. Past performance is no guarantee of future results.
Risk warning: сonducting operations with non-deliverable over-the-counter instruments are a risky activity and can bring not only profit but also losses. The size of the potential loss is limited to the funds held by us for and on your behalf, in relation to your trading account. Past profits do not guarantee future profits. Use the training services of our company to understand the risks before you start operations.
Capital Com SV Investments Limited is regulated by Cyprus Securities and Exchange Commission (CySEC) under license number 319/17. Capital Com SV Investments Limited, company Registration Number: 354252, registered address: 28 Octovriou 237, Lophitis Business Center II, 6th floor, 3035, Limassol, Cyprus.  
Start trading on AAPL now.
Tech
via Inferse.com https://www.inferse.com
August 6, 2022 at 07:05AM