Allwinner H618 processor powers Android 12 TV boxes – CNX Software


https://ift.tt/bqEKB4o
CNX Software – Embedded Systems News
Reviews, tutorials and the latest news about embedded systems, IoT, open-source hardware, SBC's, microcontrollers, processors, and more
Allwinner H618 processor has started to show up in several TV boxes running Android 12, and capable of playing 6K/4K VP9 and H.265 videos with devices such as T95Z Plus and T95 Max, which may be confusing, as companies are reusing those model numbers over and over.
Featuring a quad-core Cortex-A53 processor, an Arm Mali-G31 MP2 GPU, and 6K video support, the Allwinner H618 looks exactly like the Allwinner H616 processor except it can run the more recent Android 12 operating system.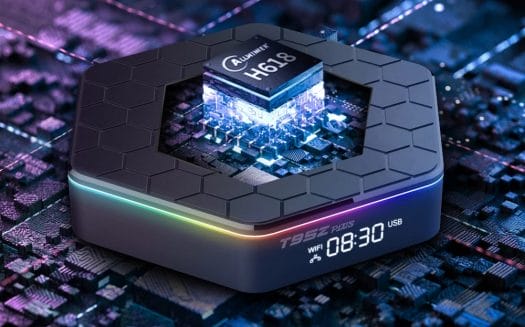 There's not much public information about Allwinner H618 at the time of writing, but let's check T95Z Plus specifications to see if we can find any other new hidden features:
Besides Android 12 support, there could be at least one more difference, as noted on linux-sunxi wiki, the Allwinner H616 lacks the PCIe and USB 3.0 interfaces from the Allwinner H6 processor. But considering the T95Z Plus comes with WiFi 6 you'd normally want at least one such high-speed interface unless they went with a 480 Mbps USB 2.0 module… The specifications and photos of the T95 MAX model on Aliexpress show a USB 3.0 port, but I'm not sure the information can be trusted since most of the description for that TV box is a copy/paste from a previous model based on Allwinner H6. [Update: I've seen the Allwinner H618 datasheet (sorry, I can't share it), and there's no USB 3.0 or PCIe interface. The main difference appears to be the larger 1MB L2 cache. It also shows WiFi+Bluetooth is typically connected to SDIO 3.0, UART, and I2S]

The T95Z Plus Android 12 TV box with Allwinner H618 processor can be purchased on Aliexpress or Banggood for $39 to $54 depending on configuration (one seller even offers 50 pieces bundle), while the T95 MAX (with inaccurate specs) starts at around $33.
Via AndroidPC.es
Jean-Luc started CNX Software in 2010 as a part-time endeavor, before quitting his job as a software engineering manager, and starting to write daily news, and reviews full time later in 2011.
Support CNX Software! Donate via PayPal or cryptocurrencies, become a Patron on Patreon, or buy review samples
Related posts:
I heard H618 have bigger CPU cache then H616.
Allwinner seems to be stuck in the past on a 10 years-old CPU. A53 was quite good, but it's not efficient as per todays standards and it would be about time that they force themselves to pay a new license and update their design to A55 or so, or in 10 years they'll continue to use that one and will be totally irrelevant.
[ If suitable here, What's the cpu (SoC) You like most, through all seen development? thx ]
I'm not sure I understand your question. Do you mean what's my preferred SoC ? If so I don't have a preferred one, and it depends a lot on the use cases. Due to my background in networking I do have interest in Marvell's designs, but they're not udated them often so they tend to be released with old designs (and their docs being available only under NDA is a real mess). My recent encounter of NXP's LX2160A was a real pleasure, as everything works out of the box in mainline and is pretty fast. That's probably the most serious… Read more »
[ If suitable here only one more question since maybe too far off technical only relations, Do these times require some (hardware development) 'slowing', because of energy supply transition, resources provision (concurrent priorities), software (Sunxi support) and tooling updating towards new hardware levels, people (customers, consumers) getting accustomed and maybe it's to add increasing cost (and prices) at the moment? Is it exaggerated explaining this like some kind of system 'barrier' (not (yet) technically, but for influences on global markets, e.g. DDR3->DDR4->DDR5; exporting fees, transportation energy, political implications?), what maybe causes extended development periods within electronics, generally? thx ]
I think to remember having recently heard that one of the more recent in order/little cores is on par with A72, so we can hope that in 20 years we will get reasonably fast SOCs (for today's standards) with the then equivalent of an A53…
Let's see where development leads and what will happen once this supply chain issues are called off..
if optimized (and with production development node sizes for A72 might have changed on mass market SoC since introduction ~2015, maybe some information about that was for A72(?) also) A72 is described up to 2.5GHz for TSMC 20nm for (e.g.) a MediaTek Helio X20, experimental design (probably, not for longevity or cost reduced implementations) even getting towards AMD/Intel/(Apple?) desktop/mobiles level, told <4GHz (on 7nm, chiplet) for voltages between .775-(~)1.3V (while Rockchip RK3399 SoCs are officially up to 1.8GHz (=Pro) and from SBC datasheet 0.8V-1.2V for consumer usage demand). Development for RK3399 is interesting because there's transition from LPDDR3 to LPDDR4… Read more »
(FYI, production nodes for A72 possibly are 28nm, 20nm, 16(14)nm, (7nm))
This is merely a minor spec bump before they migrate to RISC-V, if their Nezha collaboration with XuanTie is any indication.
Do you know of any octa-core Cortex-A55 (other than Allwinner T723 that appeared on some of those boring Allwinner roadmaps)?
Nevermind. I stumbled accross such a thing as part of sbc-bench's results collection. 8 x Cortex-A55 / r1p0 with these flags: fp asimd evtstrm aes pmull sha1 sha2 crc32 atomics fphp asimdhp cpuid asimdrdm lrcpc dcpop asimddp
But according to this collection it's probably Unisoc SC9863a instead since r1p0, more recent A55 are all at least r2p0.
I was not aware of any but I've found this which mentions Exynos 850 as 8×2 GHz (in french) : https://fr.gadgetversus.com/processeur/arm-cortex-a55-fiche-technique/
8 little cores is nice for a lot of things (networking, virtualization, development etc). I still use my NanoPi Fire3 (8xA53) for this reason. Technically it has 2 identical clusters so you don't care which one is the big and which one is the little one

There should be a 96Boards SBC coming with Exynos 850.
The WinLink E850-96 board was added to Linux 5.17, but there's only limited information, and their website has blurry photos. I contacted the company, and they told me they'd inform me once it becomes available.
> Exynos 850
Might be a candidate as well. Though seems impossible to find stepping/flags of this SoC.
> NanoPi Fire3 (8xA53) …
While with the S5P6818 on this board it doesn't matter which cluster is which with another 8 x A53 (S912 on VIM2) it's important since Amlogic artificially crippled cluster1 to be limited to 1000 MHz while cluster0 fakes 1512 MHz but runs with 1412 MHz. This often ended up with single-threaded tasks being limited to 1000 MHz since usually higher clusters are the faster cores. Fixed by community.
Yes I remember about this, all these "amlogic octa-crap" sold as TV boxes showing 8xA53 at 1.5 GHz except that only the first half was at 1.5 (or sometimes even only 1.4). Lying on the frequency seems to be in their genes… My S5P6818 works at 8×1.6 with temperature limit set to 115°C and with a tiny metal plate serving as a heat spreader into the acrylic enclosure… It will eventually throttle but only after quite some time, which allows me to run plenty of tests at full frequency. This device only lacks a wider memory bus, because 32-bits of… Read more »
I mean to remember my X92 was sold as 2GHz octacore…
I have a feeling they'll either skip a gen completely, move to the A510 eventually or RISC-V if that takes off.
Or maybe the brain drain few years ago was simply too much.
And what do you think most smart TV's use?
Is it support Widevine L1?
> one such high-speed interface unless they went with a 480 Mbps USB 2.0 module
SDIO 3.0 is also an option (though bottlenecking but consumers neither know nor care).
I can confirm there's no USB 3.0 or PCIe on Allwinner H618, and the wireless module should be connected over SDIO 3.0 (and UART/I2S for Bluetooth).
Maybe H618 is just a H616 with different SoC ID and the new BSP (with support for Android 12) refuses to boot on H616 to force TV box manufacturers to stock new SoCs.
Anyway, who cares…
The crucial thing is… is that Android 12 or Android TV 12, which is a huge difference. Chinese resellers as usually trying to fool customers and make descriptions of these boxes as unclear as this is possible, so there is no clear clue about an access to 4K DRM content – surely there isn't, so eg Netflix, if it will install at all on such device, will play some funny 480p, because it will lack DRM. No clear indication about access to Google Play services, so god only knows if it will be possible to install apps in any normal… Read more »
At least it can decode my collection of 6Kp30 videos.
I wouldn't be sure even about that
In many cases these boxes can handle max load only for a quite limited time, because the installed heat sink is not good enough to protect CPU against overheating. This results in throttling and suddenly box is unable to work at its maximum capabilities after some time – needs to cool down. Sometimes this can be fixed by replacing heat sink with something better… but why I have to do that?
learned (some of) Your point of view, about 6Kp30 ?
[ seen yet movies with variable resolutions for sequences? ]
Allwinner has cortex-A55 cpu – according to the sunxi its A523
sun55i (cortex-a55 smp)
sun55iw3 (0x18??)sun55iw3p1A523 ?xCortex-A55
Ah, good news. We'll see if they become relevant again. A few years ago everyone was babbling about allwinner all the time as they were present on many ultra-cheap SBCs. Since then, things have changed but not them and they almost disappeared. Maybe we'll see their comeback.
https://www.cnx-software.com/2021/04/29/allwinner-processor-2021-2022-roadmap-allwinner-t827-t723-and-t1033-socs/ showed a 22nm T723 (Cortex-A55) and T1033 (Cortex-A7) for last year, A523 might be the same thing under a different name. There is also the RISC-V based D1 now, which I think was their only 22nm chip that actually made it into products.
Curiously the old roadmap showed them going back to A73/A53 for their 12nm generation, presumably because A73 is a lot cheaper than any of the big Armv8.2 cores (A75/A76/A77/A78). Not sure if that is still on now, or if they go straight to the Cortex-A510 if the 12nm generation gets delayed enough.
Been years since I used a media player with an Allwinner SoC. Got one on order just to see how it performs as a media player.
Change Ad Consent
Do not sell my data
Tech
via Inferse.com https://www.inferse.com
August 4, 2022 at 05:49AM