GAL coin price prediction: Can the token rebound to 2021 highs? – Capital.com


https://ift.tt/4AxhOP6
Scan to Download ios&Android APP
What is GAL token?
Technical overview: Will GAL token go up?
GAL price prediction 2022-2025
FAQs
By Manaswita Ghosh Dutta
Edited by Vanessa Kintu
15:12, 11 May 2022
Share this article
Tags
Have a confidential tip for our reporters?
Get In Touch
GAL is the official fan token of Turkey's Galatasaray Sports Club. It was offered to fans via the Chiliz's exchange, a sports tokenisation platform. Fan tokens are built on blockchain technology. Ownership is authenticated by a blockchain network.
GAL are ERC-20 utility tokens, which means they use the Ethereum blockchain for authentication, ownership, transaction and voting records. This makes the GAL token secure and verifiable. 
Although fan tokens may not be used to purchase goods, they can be exchanged with Socios fan token holders on the publicly-accessible crypto-token market. 
Students of Galatasaray Lycee in Istanbul's Beyoglu area founded the Galatasaray Sports Club in 1905. In 2020, the club launched GAL in partnership with blockchain sports fan start-up Socios. It's based on the Chiliz exchange.
GAL tokens are a limited number of digital assets minted and secured on the Ethereum blockchain. According to Coinmarketcap, the token's fully diluted market capitalisation stood at $23.9m, as of 10 May, with a total supply of 10 million tokens. The token's circulating supply at the time of writing was 3.5 million.
As the name suggests, Galatasaray fan tokens were aimed at fans of the Turkish sports club. When the token was introduced, engagement and rewards app Socios.com required fans to possess GAL fan tokens to be eligible to vote on club polls.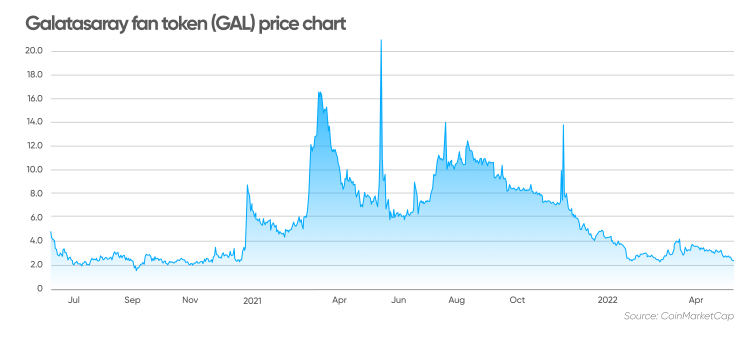 The Galatasaray fan token has demonstrated high volatility since its launch. The price recorded several spikes in 2021, hitting its all-time high of $35.35 on 15 May 2021. Price performance has been lacklustre in 2022.
According to CoinCodex, GAL crypto price prediction sentiment at the time of writing (10 May) was bearish. The fear and greed index showed 'extreme fear'. The price was $2.38 at the time of writing (10 May).
GAL has declined by 29.79% in the last month. It fell 4.47% against ether and 5.11% against bitcoin over the same period.
Overall coin price prediction sentiment was 76% bearish, with 22 technical analysis indicators signalling bearish signals and seven bullish. CoinCodex predicted the token could fall, reaching $2.27 by 15 May.
GME
AAPL
GOOG
TSLA
The token's return on investment (ROI) was 63.87%, as of 10 May. The ROI indicates the approximate return on investment if the token was purchased at the time of launch.
The weekly simple moving average (MA) was indicating 'sell' at $3.25. The moving average convergence divergence (MACD) (12, 26) was 'neutral' at -0.04, while the Relative Strength Index (RSI) indicated a 'buy' at 25.85. An RSI reading of 30 or below indicates that a security is underbought or undervalued. Values above 70 may indicate that an asset is overbought.
The Commodity Channel Index (CCI) (20) was indicating 'neutral' at -66.67. The CCI is a momentum-based oscillator used to establish when an asset's price is reaching overbought or oversold territory. 
GAL price's pivot point was $2.35, with support levels at $2.16 and $2.05. The strongest support level was at $1.86. The token's resistance levels were at $2.46, $2.65 and $2.76, according to Coincodex.
The price was most positively correlated with the price of shiba inu (SHIB), loopring (LRC), osmosis (OSMO), binance (BNB) and secret (SCRT), and most negatively correlated with magic internet money (MIM), liquidity USD (LUSD), keep network (KEEP), tron (TRX), and compound dai (cDAI), Coincodex data indicated.
The tokens positively correlated with the GAL token indicate that the movement of any one may have a statistically considerable weight to pull the other tokens in the same direction. For tokens negatively correlated with GAL, a move in any one direction for GAL would indicate their move in the opposite direction.
As of 10 May, algorithm-based forecaster Wallet Investor had a negative outlook for the token over the next 12 months. The service expected the average price to reach $0.193 by the end of 2022, $0.0896 in 2023, $0.1031 in 2024, $0.0925 in 2025, $0.124 in 2026 and $0.1022 by 8 May 2027.
DigitalCoinPrice projected a considerably brighter future for the token from 2022 to 2031. The forecaster's GAL crypto price prediction suggested that the coin's average price could hit $3.19 in 2022, $3.59 in 2023, $3.86 in 2024, $4.63 in 2025, $4.36 in 2026, $5.89 in 2027, $7.44 in 2028, $9.73 in 2029, $11.19 in 2030 and $13.05 in 2031.
When looking at crypto price predictions investors should remember that the market is very volatile. Forecasts are based on inferences drawn from past performance by analysts. They can be wrong, due to market gyrations, change in policies and unknown parameters. Only you can decide if the Galatasaray fan token (gal) is a good investment for you. 
Always take into account a token's collaborations, partnership deals and fundamentals before making any investment decision. You should consider your attitude to risk. Investors should gauge how comfortable they are about losing money. You should never invest money that you cannot afford to lose.
As of the time of writing, based on the token's technical analysis and predictions of its future price based on algorithms, the Galatasaray fan token could be heading for a further downward trend in the future. However, analyst forecasts can be wrong. They shouldn't be used as a substitute for your own research. Always conduct your own due diligence before investing. And never invest money you cannot afford to lose.
According to DigitalCoinPrice's GAL token price forecast, as of 10 May, the coin's price performance could improve. The crypto forecaster thinks that the token could move higher in the next few years and reach $11.19 in 2030.
However, Wallet Investor expected that the price could continue to trend downward in the coming years, falling below $1 to $0.193 by the end of 2022. Analysts' forecasts can be wrong and have been inaccurate in the past. Always do your own research before investing. And never invest money you can't afford to lose.
The week ahead update on major market events in your inbox every week.
Got a trading idea? Try it now.
Most traded
Refer a friend!
Invite like-minded traders to open a CFD trading account with us and earn up to $100
Join the 380.000+ traders worldwide that chose to trade with Capital.com
1. Create & verify your account
2. Make your first deposit
3. You're all set. Start trading
CFDs are complex instruments and come with a high risk of losing money rapidly due to leverage. 79.17% of retail investor accounts lose money when trading CFDs with this provider. You should consider whether you understand how CFDs work and whether you can afford to take the high risk of losing your money. Risk Disclosure Statement
The value of shares and ETFs bought through a share dealing account can fall as well as rise, which could mean getting back less than you originally put in. Past performance is no guarantee of future results.
Risk warning: transactions with non-deliverable over-the-counter instruments are a risky activity and can bring not only profit but also losses. The size of the potential loss is limited to the funds held by us for and on your behalf, in relation to your trading account. Past profits do not guarantee future profits. Use the training services of our company to understand the risks before you start operations.
Capital Com SV Investments Limited is regulated by Cyprus Securities and Exchange Commission (CySEC) under license number 319/17. Capital Com SV Investments Limited, company Registration Number: 354252, registered address: 28 Octovriou 237, Lophitis Business Center II, 6th floor, 3035, Limassol, Cyprus.  
Tech
via Inferse.com https://www.inferse.com
May 12, 2022 at 11:52PM